Public Sector Contracting
Let MegaKC Tackle Your Public Sector Contracting Projects.
MegaKC is a leading construction company in Kansas City that works with public entities on various types of projects. Our commercial builders deliver unparalleled craftsmanship and attention to detail. We value transparency and maintain full and open communication with you throughout the construction process.
MegaKC is a dedicated local contractor for public sector work
As a full-service commercial construction firm in Kansas City, our team specializes in:
Structural concrete work
Concrete flatwork
Design-build
Construction management
Site development
General construction
For over 30 years, MegaKC has built roads, parks, trails, infrastructures, and other projects for the public sector. Our commercial builders strive to complete jobs on time, within budget, and with unmatched precision.
How we build
We are a customer-focused construction company in Kansas City. Collaboration and industry expertise are the foundation of our success. Together, we determine your goals and translate them into forward-thinking designs and infrastructure.
By bringing together skilled tradesmen and engineers, we work to deliver excellence every time. Our ability to think outside the box allows us to meet the construction needs of the public sector.
If you're looking for a commercial construction firm, we're the team to call.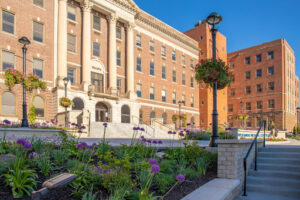 Why work with us
100% employee-owned
MegaKC is made up of employee-owners who look out for each other and work tirelessly to deliver exceptional value.
Top-notch commercial builder
We take pride in being an authorized Nucor Building Systems Builder and having a 70% self-perform rate on most projects. Our firm is recognized as a member and Kansas City Chapter sponsor of the Design-Build Institute of America—Mid-America Region, a member of the AGC Builders Association, and the Association of Builders and Contractor's Heart of America chapter.
Community-focused
As your local commercial construction firm, we specialize in projects that make Kansas City a better place to live in.
Work with a premier construction company in Kansas City
Our commercial builders would be happy to learn more about your project goals.
Contact us now for all your construction needs and proposal inquiries.