Trusted Commercial Contractor for Kansas City Businesses
We have a team of the most trusted commercial builders in Kansas City. Receive complete commercial construction services at reasonable rates by working with us.
Kansas City Contractor
Offering Turnkey
Commercial General
Construction
Our team is involved in every aspect of construction for commercial projects. You'll have a team equipped with the latest tools and knowledge to address your needs and advise you on your options. They'll ensure you get reasonable estimates to maximize your budget and complete your projects quickly.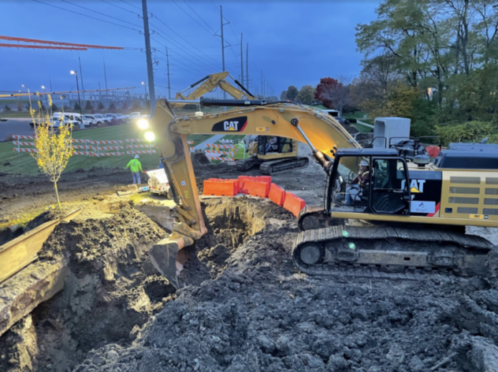 The MegaKC Construction Process
Our clients regard us as one of the best commercial contractors in Kansas City for our comprehensive construction solutions. You can count on our construction specialists to meet all your commercial project requirements.
Comprehensive Construction Services
Ensure you get everything you need for your project by working with us. You'll get comprehensive construction solutions. This includes site work, electrical, plumbing, water lines, storm sewers, sanitary sewers, concrete flatwork, structural concrete, roads, parking lots, manufacturing facilities and buildings.
Most companies hire Trade Partners to do large portions or all of the work. MegaKC keeps its signature construction solutions as in-house as possible. Less than 35% of your project will be subcontracted out, so you're sure to get quality workmanship from a single commercial general contractor.
Receive complete design builds. We can bring in engineers, architects, and designers for your project. You'll get industry experts specialized in various fields to provide high-quality solutions for your specific needs.
The MegaKC Brand of Service
Partner with MegaKC, a leading commercial contractor in Kansas City, for quick turnaround times. You'll get timely customer service, efficient work, and have your project finished earlier than it would take other commercial builders to accomplish the same task.
Our experience in working across industries also gives us the expertise to handle specific requirements you may expect your building to meet.
Choose a commercial contractor that can build different project types according to your needs. Here are some of the infrastructures we have worked on over the years:
Manufacturing Facilities and Plant Work
Manufacturing and industrial businesses have specific requirements for their operating facilities and equipment. We're an industrial contractor in Kansas City with the know-how to improve cutting-edge manufacturing facilities.
Our team has worked with several local schools and colleges to improve their facilities. You can have us build anything from athletic fields  to classrooms.
We have an extensive portfolio of construction projects with the local, state, and federal government. You'll get a well-built government facility with all the amenities your department needs to perform your duties effectively.
Choose us to be your commercial general contractor in Kansas City for affordable rates and quick turnover time. Moreover, we're 100% employee-owned, so you can expect the highest quality of professionalism and service from every MegaKC employee you'll interact with.
FAQs for Our
Commercial Builders
Do you work on every facet of the building?
Yes! Whether it's the sewage system, electrical, or parking lots, you can count on our 85-man-strong team to build your ideal commercial space without any problems.
Can we bring our own engineers to the project?
We are more than happy to work with the engineer, architect, or designer of your choice to build your project. We've worked with most other Kansas City commercial designers and are happy to accommodate them.
Is it possible to finish the project before the estimated time of completion?
Since our in-house construction crews do the majority of the work, it's possible that we can finish your project faster than our estimate. However, we prioritize the quality of your project over the speed of our work. Please understand that you can't rush perfection.
Talk to Our
Commercial Builders
Today!
Choose the best commercial general contractor in Kansas City to build your commercial project for you. Get in touch to set an appointment with our friendly team.