Concrete Contractor in Kansas City
No matter what type of concrete work your business needs, we've got you covered.
MegaKC is a concrete contractor that is ready to plan and complete your concrete project promptly and efficiently. We are a 100% employee-owned concrete company, providing superior craftsmanship and outstanding customer service you won't find elsewhere.
High-quality concrete work
For over 30 years, MegaKC has been a trusted local contractor with the ability to finance projects through completion. As a full-service construction and concrete company, we specialize in the following areas:
Structural concrete work
Concrete flatwork
Design-build
Construction management
Site development
General construction
Our team has built a reputation for high-quality work at competitive rates. Regardless of project size and type, ensure that each and every job is performed with utmost care and precision.
A collaborative approach
Collaboration is ingrained in our core values, allowing us to deliver exceptional results no matter what. Together, we discover innovative solutions that meet your budget, solve your unique challenges and align with your vision.
We bring together tradesmen and project engineers with a strong customer focus and extensive experience in concrete jobs. From decorative concrete projects to structural concrete and flatwork, we have the expertise to ensure all your needs are met.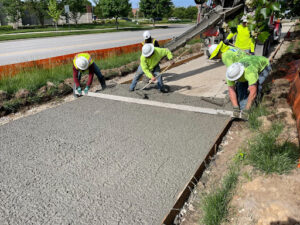 Why choose us
100% employee-owned concrete company
MegaKC is employee-owned, meaning every member of the team has a stake in the company's success.
Top-tier professionals
We have a 70% self-perform rate on most projects, from public sector works to decorative concrete jobs. MegaKC is also an Authorized Nucor Building Systems Builder and a member and Kansas City Chapter sponsor of the Design-Build Institute of America—Mid-America Region, a member of the AGC Builders Association, and the Association of Builders and Contractor's Heart of America chapter.
Community-focused
As a local contractor, we work on projects designed to improve and beautify the Kansas City area.
Work with us
When it comes to choosing a local concrete contractor you can rely on, MegaKC is your top choice.
Reach out to us to learn more about our concrete work or to inquire about a proposal.